Please see below for a selection of WKM's clients.
[testimonialbox]
KCL Care Limited 
KCL Care is one of our clients based in Nottingham who we have worked with for some time. KCL Care Limited is a recruitment organisation specialising in vacancies within the Health and Social Care industry. We have supported KCL Care with the management of their accounts and are passionate about the success of their business. Jane from KCL Care Limited has shared her experience with WKM Accountancy in the testimonial below.
"WKM Accountancy Services offers a brilliant service to us ensuring our business runs well. They look after our books and we are overly happy with the way they conduct all their undertakings. They are professional, accessible, produces high-quality work, friendly and respects their clients.
We highly recommend the work they do." Jane K

[/testimonialbox]
[testimonialbox]
Impression Digital
Impression is a client based in the City of Nottingham who we have worked with for many years. The digital marketing agency, based in the Lace Market, needed an accountancy firm that could keep up with their flexible working and busy schedules. Tom Craig explains why WKM Accountancy was the perfect choice for their business.
"WKM Accountancy provides an excellent service, second to none, we would certainly recommend to other businesses." Tom Craig

[/testimonialbox]
[testimonialbox]
CSK Support 24
CSK Support 24 is a domiciliary care agency which provides support services across Birmingham. They had a need to ensure their finances are well managed but did not have an accountant in house. They enlisted Mariah's help and have been very pleased with her service.
"WKM Accountancy services were recommended to me by a friend and I would highly recommend it to anyone. The services are excellent. Customer service is of high quality, and especially Mariah who is my Accountant is always willing to go the extra mile for the client. I would highly recommend the services to anyone." Cauline Waithaka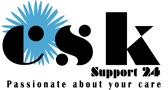 [/testimonialbox]